The HEVO wireless charging system consists of four hardware elements, integrated by cloud-based software and controlled via the owner's mobile app.
The wall or floor mounted Power Station is suited to indoor and outdoor locations, with neat dimensions of 65 x 40 x 17 centimetres. It takes mains supply electricity in single or three phases and delivers energy to the Power Pad using HEVO's unique patent-pending technology. Peak charging efficiencies from the home energy source to the vehicle battery are up to 92 per cent. That's equal or better than charging with a cable.
The Power Station is equipped with an MID energy meter and communications gateway so that it can respond to smart energy commands.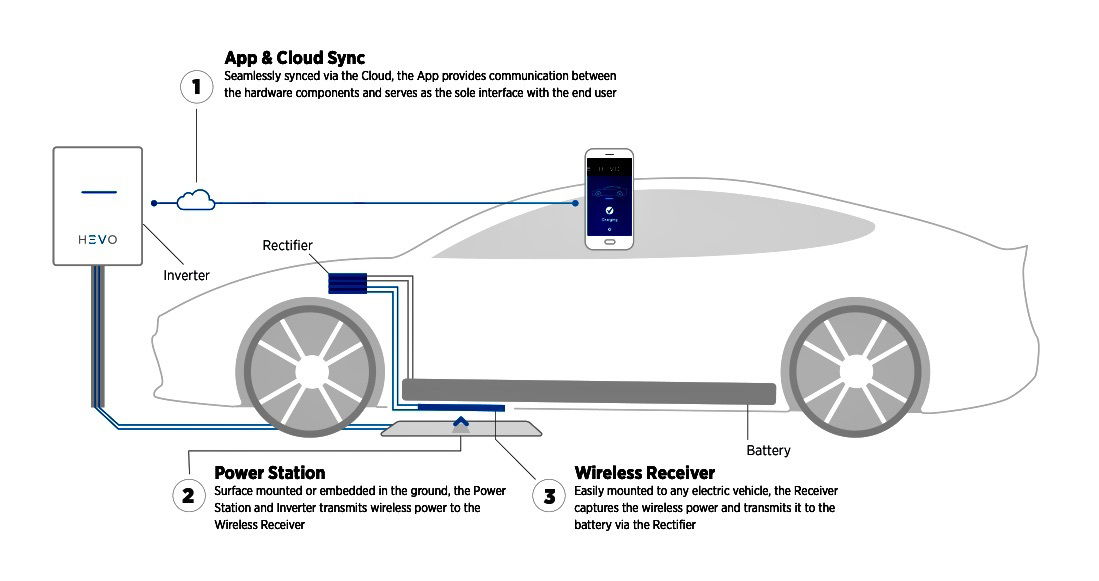 The Power Pad creates a magnetic resonant frequency of 85 kHz to transmit the charge across the air space to the vehicle. This frequency has been chosen and approved for safety and efficiency by the SAE (Society of Automotive Engineers).
The Power Pad is also equipped with sensors necessary for parking alignment. Charging efficiency is maintained even if the vehicle is not directly over the pad. The Power Pad can be embedded into the ground, covered, or simply left to rest on ground level.
Charging will be interrupted, then restarted, if any foreign object appears in the air space between pad and vehicle. This task is carried out by the Guardian. The Guardian (5 x 5 x 2 centimetres) is fixed at ground level, directed at the front of the vehicle.
The Guardian's infrared technology looks for metallic objects on top of the Power Pad that would interfere with the wireless transfer of power. If a metallic object is detected during the charging process, the system will safely turn off the Power Station and alert the user via the mobile app to remove the object before resuming normal operation. The Guardian can accurately detect metallic objects as small as paper clips from three meters away. The same device and technology also detects living creatures, or curious 'hands'.
The vehicle captures the resonant energy frequency from the Power Pad via the Vehicle Receiver Pad and Battery Adaptor. The Vehicle Pad is normally mounted between the two front wheels, well above any ground clearance limits. Once aligned, it initiates a 'handshake' that begins the charging process, and interfaces with the vehicle's own battery management system.